Complete Guide To EDG Strategic Brand And Marketing Development Grant - What Are Claimable?
In this age of ever-increasing technological advancement, businesses have long since known that they need to modernise and step into the digital age. The COVID-19 pandemic, in drastically reducing face-to-face interaction by necessity, has exacerbated this need even further.

The Singapore government understands the urgency of this need for businesses to undergo digital transformation. In particular, Small and Medium Enterprises (SMEs), who make up 99% of Singapore's 273,100 enterprises, most desperately require the adoption of digital solutions in marketing and diversifying sales channels.
But what kind of digital marketing support has been offered to businesses to help them acquire the necessary skills to be digitally enabled?

Have you come across the following Facebook Ads when you search for Digital Marketing Grants?
Many SMEs have the misconception that under the Strategic Brand And Marketing Grant under EDG, digital marketing expenses such as the following can be claimed:

1. Production of corporate and/or marketing collaterals such as videos, websites, photography and copywriting implementation of marketing or PR campaigns

2. Retainer fees of marketing consultants,
3. Advertising fees such as social media ads, google ads and media buys,

4. Engagement of social media influencers,
5. Management of social media platforms,
6. Search Engine Optimization (SEO), and
7. Search Engine Marketing (SEM)


What Are The Grants Available In Singapore For Adopting Digital Marketing Solutions?

There are a multitude of grants and support schemes that SMEs can tap on in order to tide over the current economic recession. Unfortunately, there is no clear-cut option that specifically covers the costs of online marketing.
However, certain available grants can be made use of in ways that go toward the adoption of digital marketing. The most obvious one would be the Enterprise Development Grant.


1. Enterprise Development Grant

The Enterprise Development Grant (EDG) specifically does not support the costs of implementing digital marketing in and of itself. However, the grant can go towards funding the costs of third-party consultancy fees, software and equipment, and internal manpower cost of qualified projects.
In other words, SMEs may use the EDG to hire an Enterprise Singapore-recognised digital consultant to develop a cogent digital marketing strategy. While the actual cost of carrying out said strategy will not be covered by the EDG, a digital consultant's plan can be very helpful in pointing out effective ways to implement digital marketing which can suit the company's needs, thereby setting out a clear direction. This can be very important, particularly for SMEs who have never done digital marketing before and are new to the concept altogether.
Examples of strategic brand and marketing development projects that can be claimed under the Enterprise Development Grant through a management consultant include:

1. Developing a Branding Strategy to increase market outreach
2. Formulating a Digital Marketing Strategy to increase online brand presence and lead generation
3. Conducting marketing research to identify competitive advantages or disadvantages and thereby determining the feasibility and viability of a potential business strategy.

4. Developing a Marketing & Sales Plan
5. Website Design UI/UX
6. Determining the Feasibility & Viability of Launching a New Product

As announced in the Supplementary Budget 2020, the maximum support level of this grant towards qualified projects will be raised to 80 per cent from 1 April 2020 to 30 September 2021.

For enterprises that are most severely impacted by COVID-19, the maximum support level may be raised to 90 per cent on a case-by-case basis.


EDG eligibility requirements

To qualify for the EDG Singapore grant, your business must:
· Be registered and operating in Singapore.
· Have a minimum of 30% local shareholding.
· Be in a financially viable position to start and complete the project.

Identify a suitable management consultant

Companies applying for EDG support for consultancy-related costs must engage management consultants with Enterprise Singapore-recognised certification. This involves engaging in the Consultant Quality Initiative (CQI), which will help SMEs to select the right consultant to support their project.

As mentioned above, for a strategic brand & marketing development project, you must engage an Enterprise Singapore-recognised certified management consultant to consult on the project. This is part of the ESG Consultant Quality Initiative (CQI).

A list of ESG-certified consultants can be found here.


Prepare the project proposal

As part of the EDG application, a project proposal will need to be submitted.

The certified digital marketing consultant should be able to assist in preparing said proposal in accordance with the requirements of the application guidelines, and advise on how to make it more persuasive.

Project proposal templates are also available to guide companies in their preparation for submission and can be accessed from the pre-application page of Enterprise Singapore's website on the EDG.


Other required documents

In addition to the project proposal, there are also other documents that must be prepared. They are:
· Latest ACRA search or instant information (dated no earlier than 6 months from date of project application). If there are corporate shareholders, please provide the information for the corporate parents as well.
· Audited financial statements or certified management accounts for the last FY of your company and consolidated financial statements for the last FY of your ultimate parent company, if applicable.
· Relevant proof of quotation for the cost of your project items.
· For projects where management consultants are engaged, please include the consultants' proposal detailing the scope of work, man-day rate breakdown of the service, as well as the CVs and scanned copies of Enterprise Singapore-recognised certification(s) of each individual consultant.


Apply for EDG

Once all the above steps have been taken, you may apply for the Enterprise Development Grant (EDG) via the Business Grants Portal. You will need your company's CorpPass to apply.

Follow the guided steps and upload the various documents as instructed.

It will usually take eight to twelve weeks for the application to be processed, from the time you submit your project application. ESG may contact you via the Business Grant Portal for clarifications on certain aspects of your business and may also request for additional documentation.

Applications will be assessed by Enterprise Singapore based on project scope, project outcomes and competency of the marketing consultant.

If you are awarded the grant, your company will receive a Letter of Offer (LOF) indicating the conditions of support and the amount of grant awarded. The conditions of support usually include the project qualifying date and the project deliverables. You need to acknowledge receipt and accept the LOF within the timeline indicated, otherwise the application would be considered invalid.


Potential costs and how much is covered by EDG

Marketing projects for SMEs typically cost between S$25,000 to S$60,000, over the course of three to six months, depending on the scope and duration of the project.

With a conservatively estimated budget of S$25,000 for your project, EDG will support S$20,000, which means your investment is S$5,000.

In addition, EDG will also support up to 70% of internal manpower costs for new staff hired during the period in which the project is ongoing.

For example, if the new staff who is hired for the project has a salary of S$3,000 per month (based on CPF contributions) and the project is 3 months long, the internal manpower cost will be S$9,000 over the entire duration of the project.

EDG will potentially cover up to 70 percent of S$9,000, which is S$6,300.


Receiving the funds after a successful application

As mentioned, EDG works on a reimbursement basis. This means the company needs to have the cash flow to cover the project costs first. Documentation containing account audits and reports proving that all project deliverables have been achieved will then need to be submitted.

Assuming the paperwork passes muster, reimbursement should commence after about one month.

For SMEs that would like to embark on the Digital Marketing Grant but do not have sufficient cash flow might want to consider taking up the Government Assisted Loan- Temporary Bridging Loan.


2. SMEs Go Digital

The SMEs Go Digital programme was launched by the Infocomm Media Development Authority (IMDA) to help SMEs use digital technologies and build stronger digital capabilities. Many support schemes are incorporated under it.

For newly incorporated SMEs that just started business or are new to digital technology, the Start Digital Pack under this programme is a viable option. Out of 5 categories, one of which is Digital Marketing, an SME can pick 2 to adopt at no cost for at least 6 months. More information can be found here.

In addition, further delving down the rabbit hole, the Grow Digital initiative has a Multichannel E-Commerce Platform Programme (MEP) for Singapore businesses which aim to export their products to overseas markets for the first time. MEP connects SMEs – whether manufacturers, retailers or distributors of products – to MEP solution providers, which will help them to list and sell their products on multiple overseas e-marketplaces.

By leveraging the expertise and strong in-market network of these partners, SMEs can expand their digital sales channels, access new customers, test in-market demand for their products and optimise sales.

The MEP Programme comprises three main components:

1. End-to-end package by appointed MEP providers to gain rapid entry to new markets via multiple overseas e-marketplaces
2. Digital marketing support to help SMEs increase brand value and drive traffic on e-commerce platforms
3. Relevant training programmes to operate an e-commerce business (working with Singapore Institute of Retail Studies as a designated training partner)

Eligible SMEs who sign up for the MEP Programme will receive a one-time support at 70 per cent of eligible programme costs for a year.

To qualify, business entities have to be incorporated in Singapore, possess at least 30% local shareholding, group annual turnover not exceeding $100 million per annum or group employment not exceeding 200 employees, and should ideally not have had prior experience in exporting products overseas using digital channels.


3. Productivity Solutions Grant (PSG)

For SMEs that have their own internal marketing teams but would like to have more software or hardware support can tap on the Productivity Solutions Grant (PSG) that subsidies up to 80% of the costs such as Adobe Creative Cloud which includes apps for outstanding design, photography, video and web such as Adobe Photoshop, Illustrator, InDesign, Premiere Pro, Spark, and Acrobat Pro.

SMEs can find the lists of supporting softwares here.

As a result of Covid-19, funding was enhanced from 70% to 80% from 1 April 2020 to 30 September 2021, capped at S$30,000 per entity per financial year.


In order to qualify for the PSG, companies must:
· Be registered and operating in Singapore
· Purchase/lease/subscription of the IT solutions or equipment must be used in Singapore
· Have a minimum of 30% local shareholding; with Company's Group annual sales turnover less than S$100 million, OR less than 200 employees (for selected solutions only.
4.
SkillsFuture Enterprise Credit
Another veritable maze, the SkillsFuture Enterprise Credit (SFEC) houses a whole line-up of supported programmes for enterprise transformation and workforce transformation. It bears
exploring in detail
for each different SME to fulfil various needs in different industries, but
one way to make use of it is to send employees on Digital Marketing Course
s. The SFEC can subsidise up to 90% of these training courses.
Employees themselves may also use their individual SkillsFuture credits to further offset the costs of these courses. All Singaporeans will receive an opening credit of S$500 when they reach the age of 25. In 2020, all Singaporeans aged 25 and above received a further top-up of S$500. Individuals aged 40 – 60 years old then received another additional $500 top-up (Mid-career support).
Also, if you are a company with a clear tourism focus, the
Business Improvement Fund (BIF)
under the enterprise transformation segment of the SFEC supports projects in the same way that the EDG does (see above) except specifically for tourism companies.
5.
Union Training Assistance Programme (UTAP)
If your employee is an NTUC member, they may also make use of UTAP, which is a training benefit for NTUC members to defray their cost of Digital Marketing Training in order to encourage them to upgrade their skills.
NTUC members can receive 50 per cent unfunded course fee support for up to $250 each year when they sign up for courses supported under UTAP. Members aged 40 and above can enjoy higher funding support up to $500 per individual each year, albeit still capped at 50% of unfunded course fees, for courses attended between 1 July 2020 to 31 December 2022.
More information can be found
here
.

Read also:
Uncertain Times Still Ahead for 2021 – SME Loans Available Under Enterprise Singapore
Read also:
Digitisation and Digitalisation, What's the Difference?
Read also
: Expired or Expiring Singapore SME Government Grants from 2020 (Will Budget 2021 Provide New Support?)
-------------------------------------------------------------------------------------------------------
Got a Question? WhatsApp Us, Our Friendly Team will get back to you asap :) Share with us your thoughts by leaving a comment below!

Stay updated with the latest business news and help one another become Smarter Towkays. Subscribe to our Newsletter now!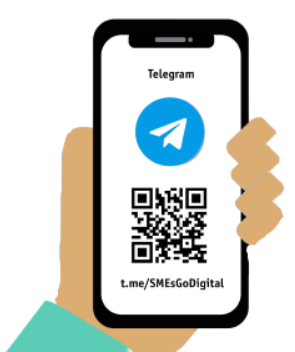 We are on Telegram!
Stay updated on the latest business related news and initiatives for SMEs.
JOIN NOW